In addition to being juiciness, sweetness, and deliciousness, they are also highly flexible. People all across the world like this tropical fruit, which can be used Energy Meal Plan Dubai in both sweet and savory cuisines. This article will discuss several cooking techniques for using this fruit and how to use this delectable fruit in your favorite meals.
Originally from Southeast Asia, they are a tropical fruit that are currently farmed all over the world. This juicy, sweet fruit is not only delightful, but it is also nutrient-rich. Itis a nutritious addition to any diet since they are high in antioxidants, fiber, and vitamins A and C.
Good Reasons to Eat Mangoes
1. Reduces cholesterol: It contains fiber, pectin and vitamin C which contributes to reducing the bad cholesterol. Additionally, it includes potassium, which aids in maintaining heart rhythm and regulating blood pressure.
2. Treatment for skin problems: It is a good source of beta-carotene that helps in maintaining healthy and glowing skin. In our bodies, beta-carotene is transformed into vitamin A, which shields the cells from harm. Vitamin A also helps in enhancing eyesight. Mango pulp is rich in vitamin c, and can be rubbed to the face to make it smooth and supple.
3. Digestion aids: It is high in fiber, which facilitates simple digestion. They also include specific enzymes that facilitate the digestion of food, the breakdown of proteins, and the removal of waste from the body. Additionally, amchoor, or dried mango powder, aids with digestion.
4. Prevents heat stroke: Consuming it can help you avoid heat stroke. Aam panna and mango lassi are two beverages that hydrate your body and banish the sense of dryness. Mangoes, according to Ayurveda, balance blood flow and revitalize the entire body.
Sweet Ways to Use Mango
Smoothies and lassis taste fantastic when mango is included. Simply add a little honey or sugar for sweetness and combine mango with yogurt or milk. Grilled chicken, fish, or chips go great with salsa as a topping or dip. Additionally, sorbet or ice cream is a cool treat on a hot summer day.
Savory Ways to Use Mango
Savory meals benefit greatly from the inclusion of mango. A common Indian meal called mango curry combines mango with vegetables or meat and a hot curry sauce. A sweet and sour condiment that may be spread or used as a dip is mango chutney. Mango chicken salad is a fantastic alternative for a quick lunch, while mango avocado salad is the ideal side dish for any supper. A fantastic way to give your favorite Mexican food some tropical flavor is with mango fish tacos.
Other Uses of Mango
Additionally, mangoes may be used to produce pickles, jams, and butters. In many parts of the world, juice is a common beverage, and a margarita is a delightful and energizing cocktail that is ideal for a summer evening.
Different Mango Dishes
These are the different ways mango can be used in different dishes:
Mango Salsa
Every gathering starts with a huge dish of mango salsa. Lime is used to combine the crisp, sweet, and sour flavors of tomatoes, peppers, and pepperoni with a hint of spice from jalapenos. You already have a winning party appetizer.
Then all you need is a never-ending supply of tortilla chips.
Ingredients
. Mangos: Which are always ripe but somewhat hard, are used to make a sweet and tangy salsa
. Red Bell Pepper - Feel free to substitute any other color for the red bell pepper, which we use for its crunch and sweetness.
. Tomatoes: You can also use cherry, grape, or tomatoes straight off the vine.
. Red onion: Although we like red onion in this salsa, any other type of onion will work just as well. Use cilantro to taste. Remove the white veins and seeds from the jalapenos to lessen the heat, or leave them in if you prefer a hot salsa.
. Lemon Juice: Utilize fresh lime juice whenever possible for the best tang which improves everything.
. Salt and Pepper: season as desired.
Recipe
1. Chop the veggies and mangos to your preferred size. Some want it thick, while others prefer it less chunky.
2. Combine everything with the chopped cilantro and jalapenos.
3. When necessary, add lime juice, salt, and pepper. Not tart enough, is it? More lime juice should be added. Not tasty enough? Add a little salt. lacking the zing? Add extra jalapenos, please. Always adjust to taste.
4. Because the tastes in mango salsa complement one another beautifully, we advise chilling it for at least 30 minutes. Having said that, it's excellent to serve right away.
Albacore Tuna Tataki Bowl
This is for those who enjoy sushi but want a straightforward method. How about artistically arranging the seafood, vegetables, and rice in a dish rather than the tiresome method of attempting to roll everything within a sheet of nori? Create a visually stunning dish with a variety of tasty flavors and enticing textures by adding some vibrant side dishes.
Tataki is a type of Japanese cuisine, much to sushi. Tataki is literally translated as "pounded" in Japanese. Although in actuality it's all about searing and nothing to do with hammering.
The meat, which is mostly made up of seafood, is flash-seared to provide a delightful juxtaposition of textures and temperatures where the surface is crispy and the interior is still rare. After that, it is sliced very thinly and placed in a bowl.
Ingredients
. Sushi Grade Albacore Tuna – You can also utilize any other fish that you choose for sushi.
. Marinade and Dressing – Soy sauce, sesame oil, ginger, sesame seeds, lime juice, olive oil, chili flakes and honey.
.Mango
.Red cabbage
.Edamame
.Grains – We are working with quinoa, but jasmine rice or any sushi rice would be delicious.
.Oil
Creating Albacore Tuna Tataki Bowl
1. Prepare the grain per the directions on the box.
2. Prepare the fruits and vegetables: dice the mangoes, chop the red cabbage, and cut the carrots into matchsticks. Because we are using frozen edamame, all that is required is a quick microwave.
3. Combine all the marinade ingredients to create the marinade. Keep 2 to 3 tablespoons of the marinade aside to use as dressing. Place the fish in the remaining marinade to marinate.
4. Quickly sear the fish in a hot skillet. Cut it thin. Place the fish, sliced mango, edamame, and carrots over a dish of rice. Add a generous amount of sesame seeds and some dressing to the fish and vegetables.
5. Before beginning to eat, admire your tataki bowl.
Baked Salmon with Mango Salsa
Enjoy this tasty lunch today as a treat. What if I told you that despite being nutritious and simple to prepare in less than 30 minutes, it would make you feel like you were out on a date or celebrating in a posh restaurant? The aromas in this juicy, delicate salmon are layered in so many distinct ways. Salmon flakes that are tangy, lemony, buttery and have a hint of heat from our spice rub are served with a colorful, cooling salsa.
Ingredients for the Salmon
The ingredients are salmon, butter, lemon, honey and spice rub
Ingredients for Salsa
The ingredients are mango, red bell pepper, cilantro, lime, jalapen?o and salt to taste.
Preparation
Heat the oven to 350 degrees Fahrenheit. To make a pouch, line the baking sheet with foil and fold the sides. Apply cooking spray on it.
Make your own rub by mixing paprika, cayenne, garlic powder, chili powder, salt, and pepper in a bowl.
butter with lemon and honey. Melt butter and combine with honey and lemon juice.
Take the salmon out of the fridge and arrange it skin-side down on the baking dish that has been prepared. Apply dry spice rub to the fish. Spread the butter mixture evenly over the fish before adding more.
Bake the fish for 15 to 20 minutes in the oven. To get a lovely golden crust on the salmon's top, turn the oven to broil and cook for an additional three to five minutes. Observe it carefully to prevent burning because ovens differ.
Chop mangoes, red bell pepper, jalapeno, and cilantro and combine well in a dish with lime juice, salt, and your fish while it bakes. Keep chilled until ready to serve. If you'd like, you may add some chopped onion.
Once cooked, let the salmon rest for five to ten minutes before serving. Serve it on a dish with a thick layer of salsa on top.
Mango Kulfi
Kulfi is an Indian ice cream that is often created with milk, sugar, cardamom powder, and almonds, for those who are unfamiliar. Neither an ice cream maker nor eggs are needed.
Traditionally, milk is reduced (to half) and thickened by slow cooking (i.e., boiling and simmering). Look at my Pista Kulfi to see how to do it.
The recipe for today is a contemporary approach to creating kulfi. It is no-cook and quick.
In contrast to the conventional approach, this one uses condensed milk, heavy cream, milk, and mango puree and is instantaneous.
Ingredients
The ingredients are Puree (fresh or canned mango pulp of alphonso, kesar or ataulfo mango), dairy (heavy whipping cream, milk, or evaporated milk), sweetener (sweetened Condensed milk or sugar), nuts, flavor and salt to taste.
Preparation Instructions
Here are step-by-step directions for making kulfi. Then, just pour the mixture into the mold, combine the nuts, and freeze.
1. In a blender, combine all ingredients—milk, cream, mango puree, condensed milk, cardamom powder, and salt—and mix until they are smooth and creamy, excluding the nuts.
2. Mix well after adding the coarsely crushed nuts. Your ready-to-eat no-cook kulfi combination! makes 4 cups in total.
3. Spoon the kulfi mixture into your preferred molds. This popsicle mold was employed. You might also use little paper cups (5 oz.). About 2 cups were mixed in 4 paper cups and 2 cups were poured into molds to make 8 kulfis.
4. Add your wooden ice cream sticks or those that came with your popsicle mold and cover with aluminum foil. Frozen after 6 to 8 hours in the refrigerator.
5. To remove the kulfi from the molds easily for serving, simply hold the molds under running water for 10 seconds.
Vanilla Bean Pastry Cream with Mango Tart
Most likely, you've heard of Urban Pi's tart if you've ever visited or lived in Del Mar, a city in southern California. It only took me twenty years to work up the culinary guts to attempt a DIY version at home after I first sampled the restaurant's renowned dessert in high school.
Recipe
The recipe for the best tart and vanilla bean pastry cream is now available.
Everything begins with a buttery shortbread crust that is put together quickly with a food processor, though your hands will work just as well.
To let steam escape and avoid bubbles developing behind the crust, the dough is squeezed into a tart pan and then poked all over with a fork.
Once the crust has baked, you may begin making the silky vanilla bean pastry cream.
If you don't want to spend the money on the costly pods, feel free to use 2 teaspoons of vanilla essence instead. This handmade pastry cream has the seeds from an entire vanilla bean.
The next component of this dessert is slice after slice of wonderfully ripe mango, which adds to its visual appeal and culinary appeal.
Using the ones that are ripe (so they have a sweet flavor) but yet hard enough to cut into small slices easily is crucial in this recipe then enjoy.
Mango Lassi
Traditional Indian yogurt drinks called lassis can be either sweet or salty. The saltier variety is also occasionally referred to as chaas. Lassi is the name for the yogurt-and-mango-pulp mixture used in the sweet variant. Traditional Indian yogurt drinks called lassis can be either sweet or salty. The saltier variety is also occasionally referred to as chaas. Lassi is the name for the yogurt-and-mango-pulp mixture used in the sweet variant.
Ingredients and variations
Mango pulp, yogurt, and milk are the only three ingredients required for this lassi recipe.
1. Regarding mango varieties. They come in over 1500 different types in India, 1000 of which are grown for use in businesses and for sale. Indian mangoes are far superior to the majority in the US (and other places I've lived). So, if you can, try to locate an Indian store.
2. Use milk and yogurt: I use both milk and yogurt into my dish. You can use yogurt, Greek yogurt, yogurts that have been sweetened, or kefir. Almond milk and yogurt work best with this recipe if you're vegan. Some types have an aftertaste.
3. Sweetness: I avoid adding more sugar. A dessert or not? Some contend it is. You can include sugar or honey if you agree.
4. Additional garnishes: My mother frequently added cardamom to my lassi and even saffron to make it extra delicious. While blending, you may also add rosewater or even edible flowers. For a fresh touch, garnish with mint. As decorations, I've also seen pistachios, almonds, and even bits of frozen mango.
Procedures to Making Lassi
It really is as easy as combining milk, yogurt, and pulp in a blender and blending until it becomes a smooth smoothie. But I'm going to provide you some advice here in case you have to prepare your mango.
They are difficult to cut. But once you get the hang of them, they're not difficult. Slice it into thirds using a thin knife; you'll see that the middle is thicker than the other two and contains the seed. Scoop out the pulp by making a crisscross pattern on the two side pieces.
Carefully remove the peel from the seed. After that, using your knife, feel around for the seed. Trim the pulp around the borders of the object. Unless you mind having filthy hands? Simply put on some disposable gloves or a thorough hand wash before putting the pulp into the blender. Don't come after me is probably the most effective strategy, I know that seems ridiculous.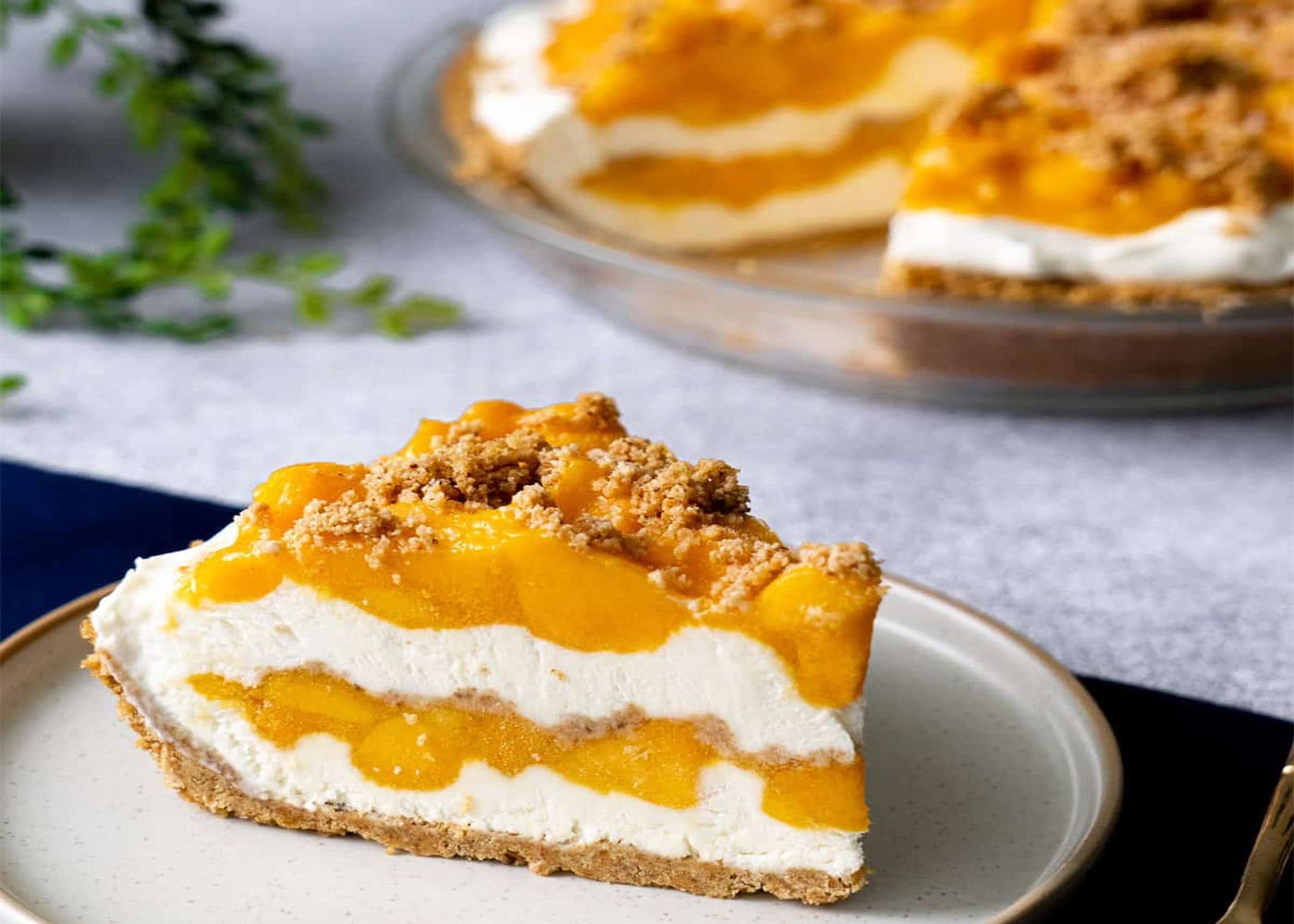 BBQ Chicken Mango Quesadillas
You're in for a tremendous treat if you enjoy chicken quesadillas and mango salsa! Both are included in this recipe for BBQ chicken mango quesadillas, but furthermore BBQ sauce is used.
The best thing is that mango salsa is not truly necessary! It should only be thinly sliced fresh for this dish. Because when it is used in savory meals, onion, lime, and salt are typically added to balance the tastes. In this instance, though, the BBQ sauce provides the acidity and salt that the fruit needs to be balanced. You can make these quesadillas with whatever kind of BBQ sauce you choose, and it does a terrific job of fusing all the tastes together.
There are several alternatives for serving them. They'll be a hit for a snack, lunch, or supper. With a side of refried beans and cilantro lime rice, they make a delightful and simple appetizer or even supper.
Ingredients
1. Small 6-inch flour tortillas—I used these. However, any size will do. However, you'll need fewer of them or more filler if you use larger ones.
2. Chicken - For this dish, you'll need cooked and shredded chicken.
3. Shredded cheddar cheese is a favorite of mine. However, Monterey Jack and Colby Jack are also delicious options.
4. Mango - For the finest flavor, use ripe, ready-to-eat.
5. BBQ Sauce - Any kind of BBQ sauce, from sweet to spicy, can be utilized. It's just a matter of preference.
6. Cilantro - If you detest cilantro, feel free to leave it out. Fresh mango pairs beautifully with cilantro, though.
7. Grease the pan with butter. To prevent oversalting meals, use unsalted butter at all times.
Procedures

to Making BBQ Chicken Mango Quesadillas

The effort required for this dish is quite little. This delicious quesadilla recipe just takes a few minutes to prepare.
Build A Quesadilla
First, melt a tiny amount of butter over medium heat, being careful to coat the whole pan's surface. Now move a flour tortilla about in the skillet until it is buttery. After that, add some slices, a third of the shredded chicken, and a third of the cheese to the tortilla. After that, add a little BBQ sauce and some freshly cut cilantro to everything.
Cook The Quesadillas
After assembling your quesadilla, grill it until the bottom tortilla is golden brown. After that, carefully flip the quesadilla over by placing a second tortilla on top. Cook the second side now till the bottom is also golden brown. The remaining materials are then used to complete the procedure.
Serve and Enjoy
Cut the BBQ chicken mango quesadillas into triangles after you have finished making them all. Then, if desired, serve them with an accompanying dish of sour cream, homemade salsa and guacamole along with a few slices of fresh lime.
Conclusion
The fruit mango is adaptable and may be utilized in a variety of ways. It gives every recipe a tropical flavor, whether it is sweet or savory. Why not give this delectable fruit a try and discover what magic it can work in your favorite dishes?